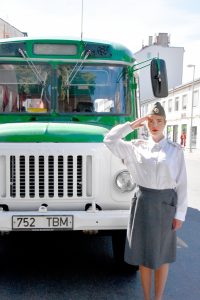 First impressions are important, and if you really want to wow your guests from the get-go, you should give them an animated airport transfer they'll never forget. How do you plan to greet your guests at the airport? Think carefully. The airport transfer is the first impression visitors will have of the country and will set the mood for your entire event. With this in mind, Blue Drum has developed a variety of animated welcoming transfers designed to entertain, educate and create lasting memories.
A popular option is the "Who are those Finns?"/"Who are those Estonians?" transfer. Guests on the bus are greeted by fun-loving animators in national costumes who introduce them to the country, serve light food and drink and teach them a few key phrases of the local language. This party of friendship between locals and the incoming visitors can be combined with a stop for a folk dance performance.
For something truly different, you can also opt for a Magical Fairytale Transfer, where the entire bus interior is transformed into a forest and mythical creatures serve up some old delicacies. In Estonia, you can have your guests greeted by a KGB officer and taken to the city in a Soviet-era bus. There may be document checks, interrogations, vodka shots and more.
There are plenty of other options for thematic transfers including retro-style transfers, transfers with live music performances, and those that take guests directly to private church concerts. Get in touch with us to talk about your ideas!