To book any of our sample programs or request tailor made solution please send us an email to [email protected]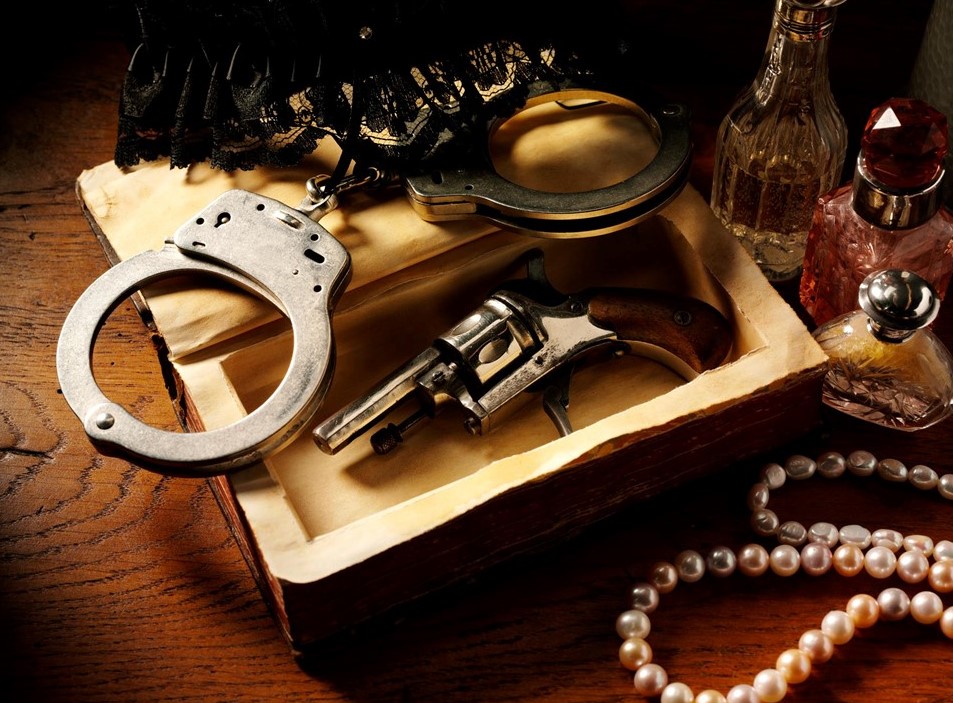 Dinner Entertainment "Murder Mystery"
Murder mystery games are generally party games wherein one of the partygoers is secretly playing a murderer, and the other attendees must determine who among them is the criminal. This may involve the actual 'murders' of guests throughout the game, or may open with a 'death' and have the rest of the time devoted to investigation. Murder mystery games may also refer to public performances, team building or corporate entertainment in different historical venues all across Baltic States or Finland, where the suspects are played by actors, and the role of detectives falls to the other guests.Blue Drum customize the plot of murder mystery for your groups. Length: 2 -2,5 hours 
Funny Educational Presentation: "Welcome to Estonia!"
It's edutainment style presentation where guests learn about Estonia and have fun! English (or any other language) speaking hosts in Estonian national costume welcomes participants, serve light meals or drink in the bus, make first toast and wish them bon appetite. While group enjoys the brunch, hosts makes small presentation, teaches some Estonian folk games and funny Estonian expressions. Recommended during transfers or welcome meeting of foreign guests. It's a party of friendship between foreigners and Estonians! Recommended during transfers or welcome meeting of foreign guests. Length: 2 -2,5 hours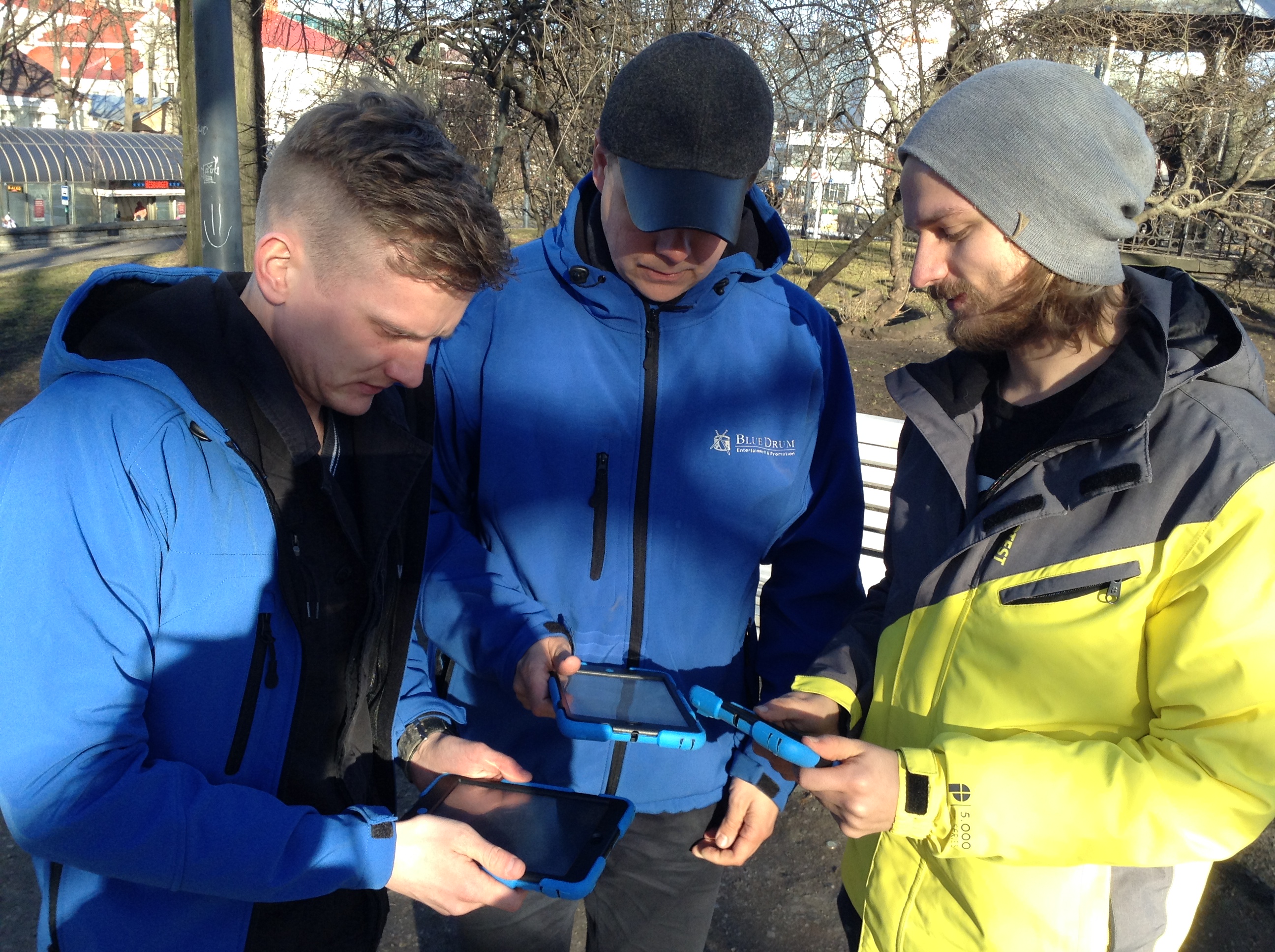 Ipad Adventure Game "Action Track"
Unique, alternative way to explore a new city. This extremely funny adventure game is about points. People in groups (up to 10 person in each group) with iPADs make their way to various animated or non animated points where entertaining multimedia-based tasks are assigned. Depending on the answer entered, you either win or lose time and choose the right or wrong route. In animated points actors/animators in costume will be waiting for the group in one checkpoint with task to solve that can take up to 15 minutes to solve it. Length: 2 -2,5 hours 
Teambuilding Competitions "Tricky Items"
An animator/game instructor in costume organizes fun team building games with wooden props such as cube, puzzles, human size jenga, bottle lock and others in a conference room or street corner. Recommended for coffee breaks or as animated stops during tours or excursion. Length: from 15-60 minutes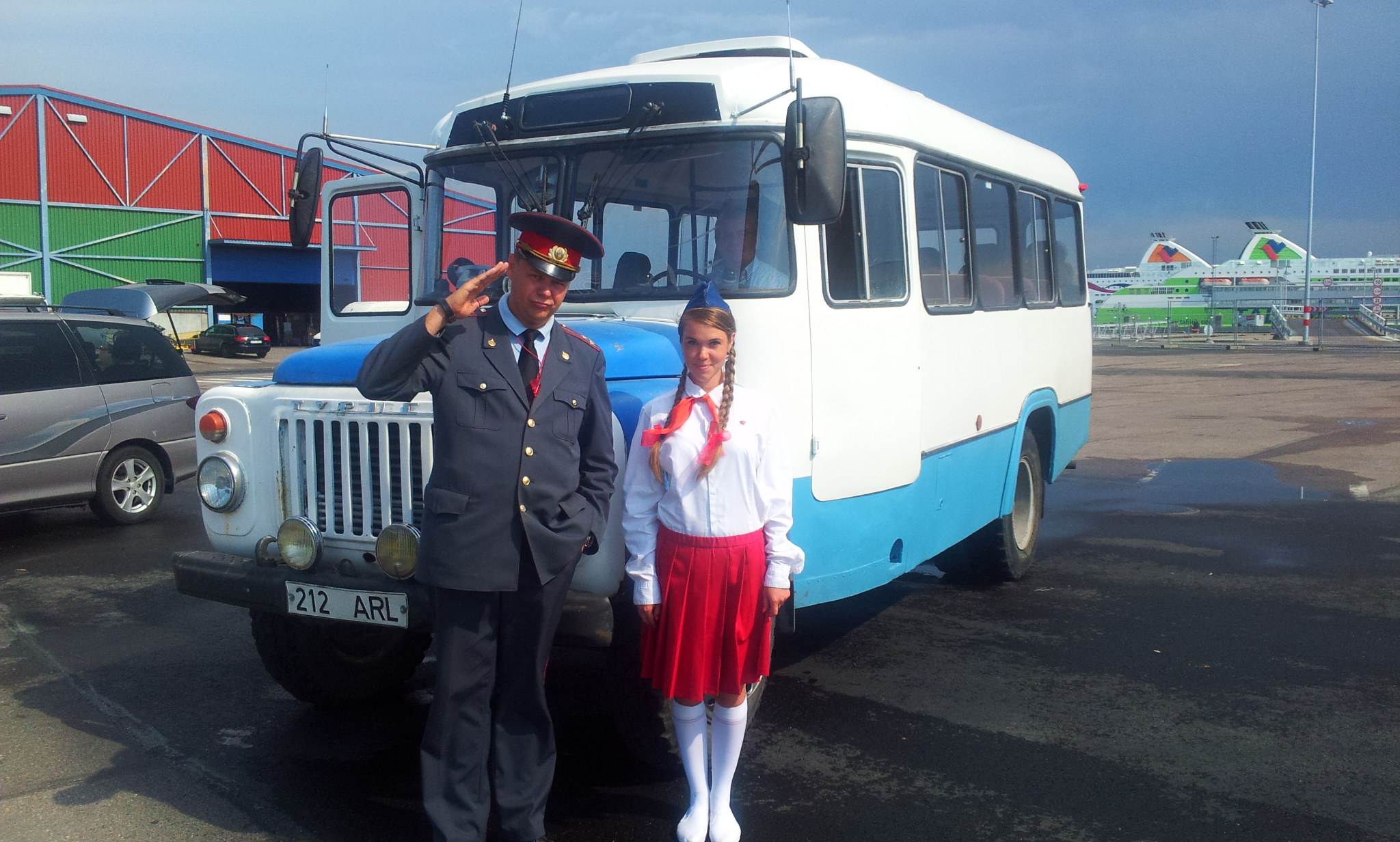 Back in the USSR
Revisit the USSR in all its glorious idiocy with Blue Drum's Soviet-themed tours, transfers and coffee breaks! That chapter of Estonia's history is thankfully long past, but we've managed to dust off some of the silliness of the era for our guests' entertainment. Want your group met by a uniformed KGB officer and given a ride in an authentic, Soviet-era bus? How about a vodka shot before being hauled off to prison?  Length: 1-4 hours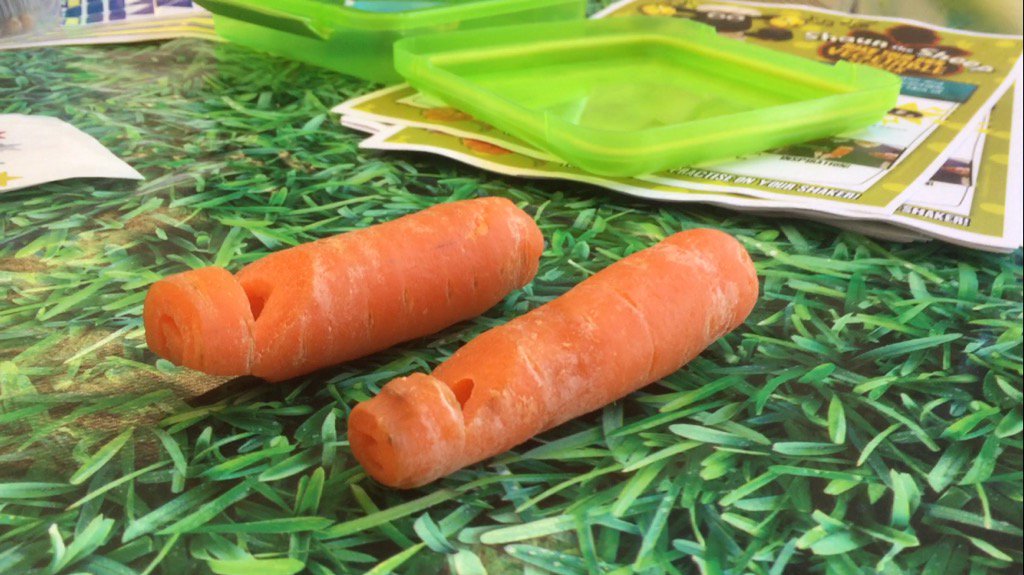 Funny workshop "Carrot Orchestra"
The combinations of vegetables to make instrumental sounds are endless, according to the Vienna Vegetable Orchestra. Early renaissance musicians teach guests how to make a carrot flute and finally all make orchestra together. Maximum people per group 20 pax. Length: 2 to 2.5 hours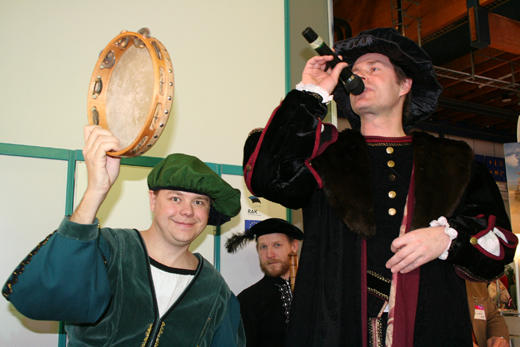 Authentic Musical Instruments
Folk musician together with the host in national costume introduce ancient musical instruments, talk stories and legends connected with those musical instruments. In the end, they involve guests to make the orchestra and dance as well. Estonian shot and traditional snack included. Recommended as animated stop during tour or excursion. Length: 30 minutes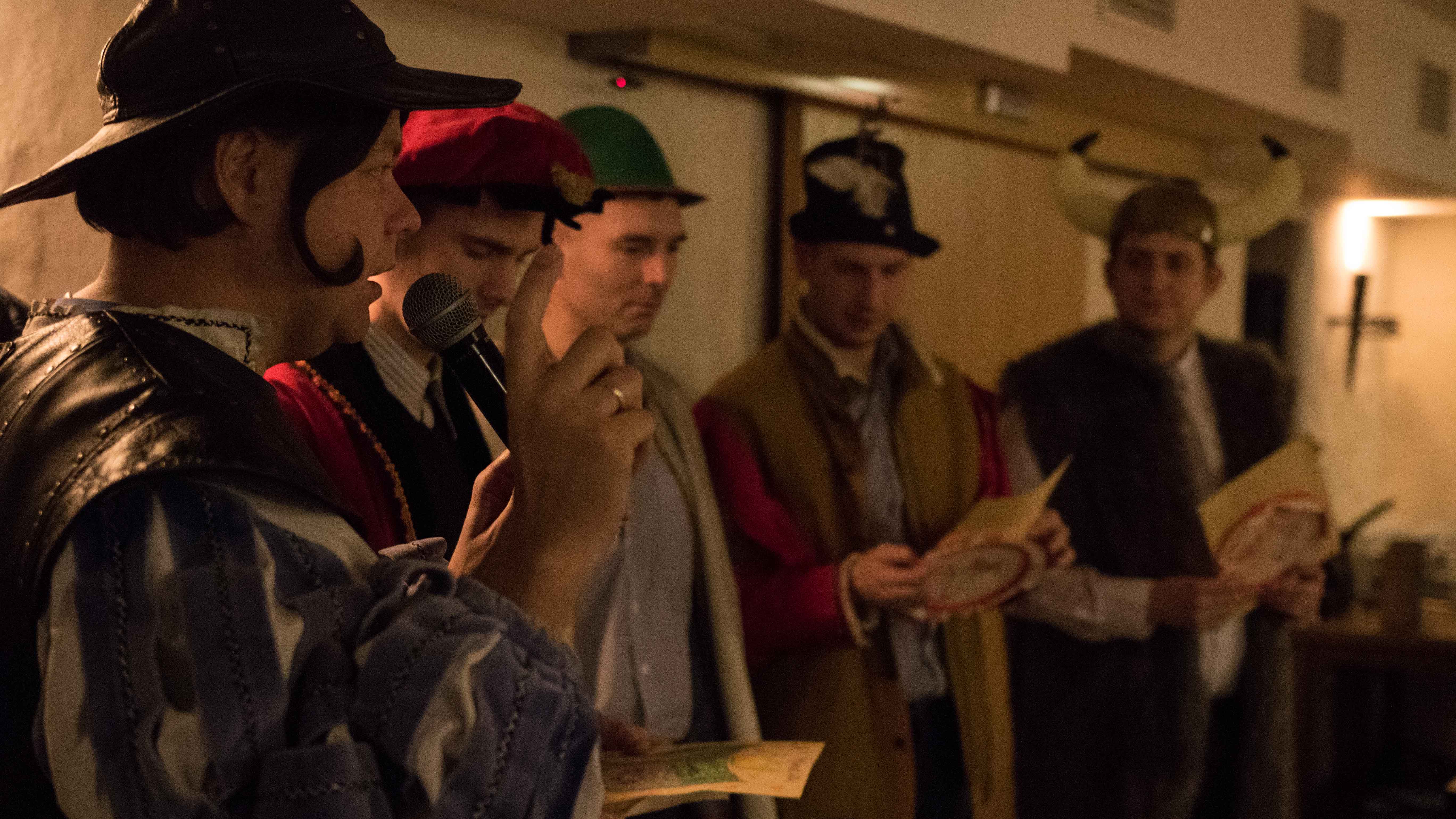 Dinner Entertainment "Tournament of Count Of May"
After the starters, before the main course, the tournament of Count of May starts. This is histotainment style dinner entertainment programme, where guests are involved in fun knight tournament of Count Of May which has been the most famous legend in Tallinn. The so-called Count of May festivals were held in medieval Tallinn to celebrate springtime, youth and happiness. The festivals dedicated to the Count of May as the symbol of spring signified the victory of spring over winter. Length: 30 minutes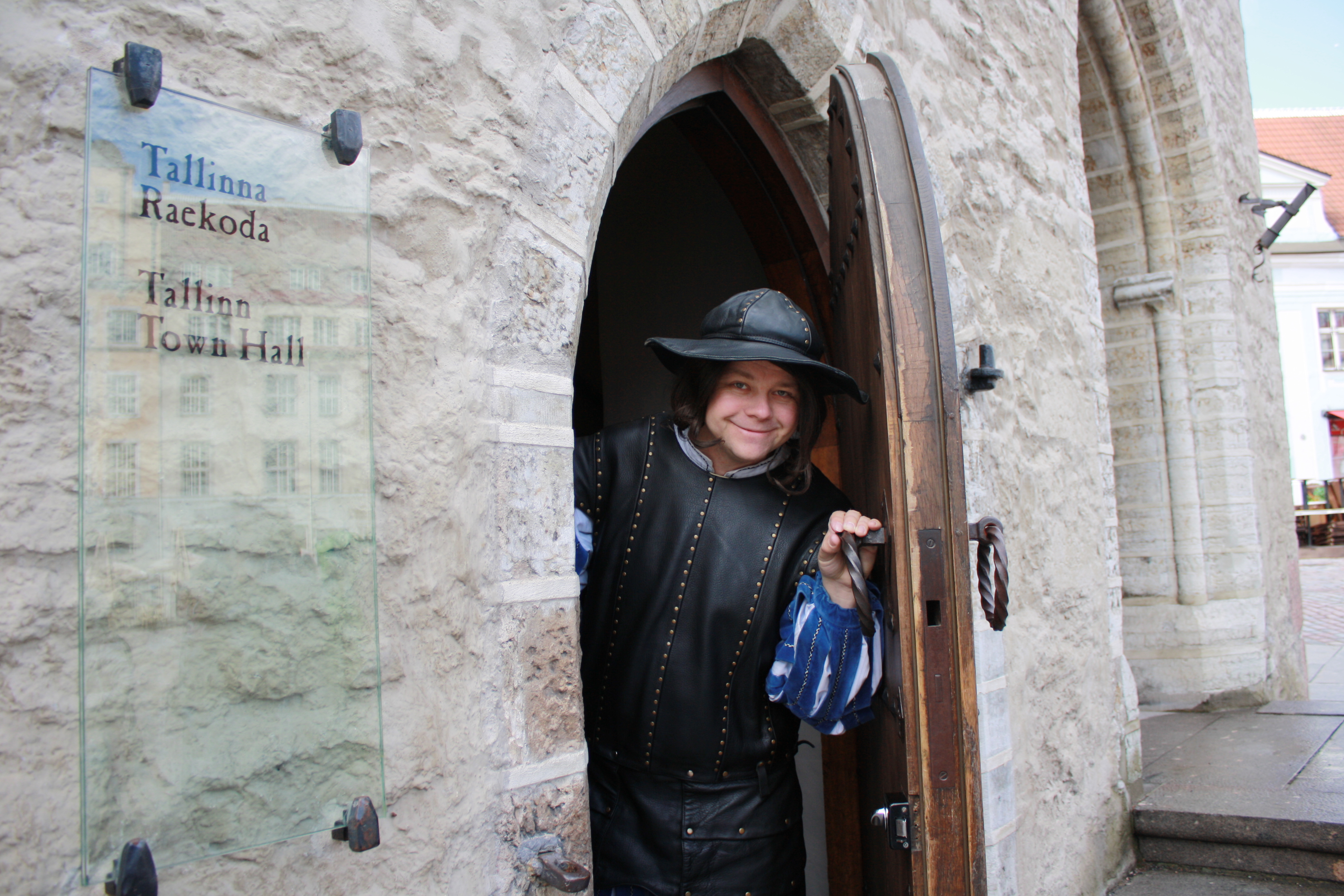 Tallinn Old Town Walking Tour "500 Years Back in Time"
To give you a real feel for what Old Town was like in its heyday, Blue Drum has created an adventure called "500 Years Back in Time." This 2-3 hour cosplay tour is led by Old Thomas, the city guard who has been a symbol of Tallinn since the early 1500s. As your group makes its way through the curving, cobblestone streets of this charming area, you'll be met by mystical heroes from times past, sample medieval food and partake in secret tastings. Are you ready for an experience? Length: 2 hours  
Dinner Entertainment Program "Musical Journey of Estonia"
Dinner Entertainment Musical Show – Journey of Estonia is 30 minutes dance show with 5 dancers and 1 presenter in different Estonia timeline costumes introducing different historical periods through musical performance and dancing. Presenter makes also talk show and dancers involve guests to dance. Its a great addition to your corporate gala, welcome dinner or private event in Tallinn, Estonia. Recommended as part of traditional or folk program or can be performed independently. Length: 30 minutes 
Local Bizarre Food
The host in national costume introduces authentic bizarre food such as pig's tongue, legs, tail, heart and kidney and talks about local culture/history/life. Recommended as animated stop during your tour or excursion or conference break. Length: 30 minutes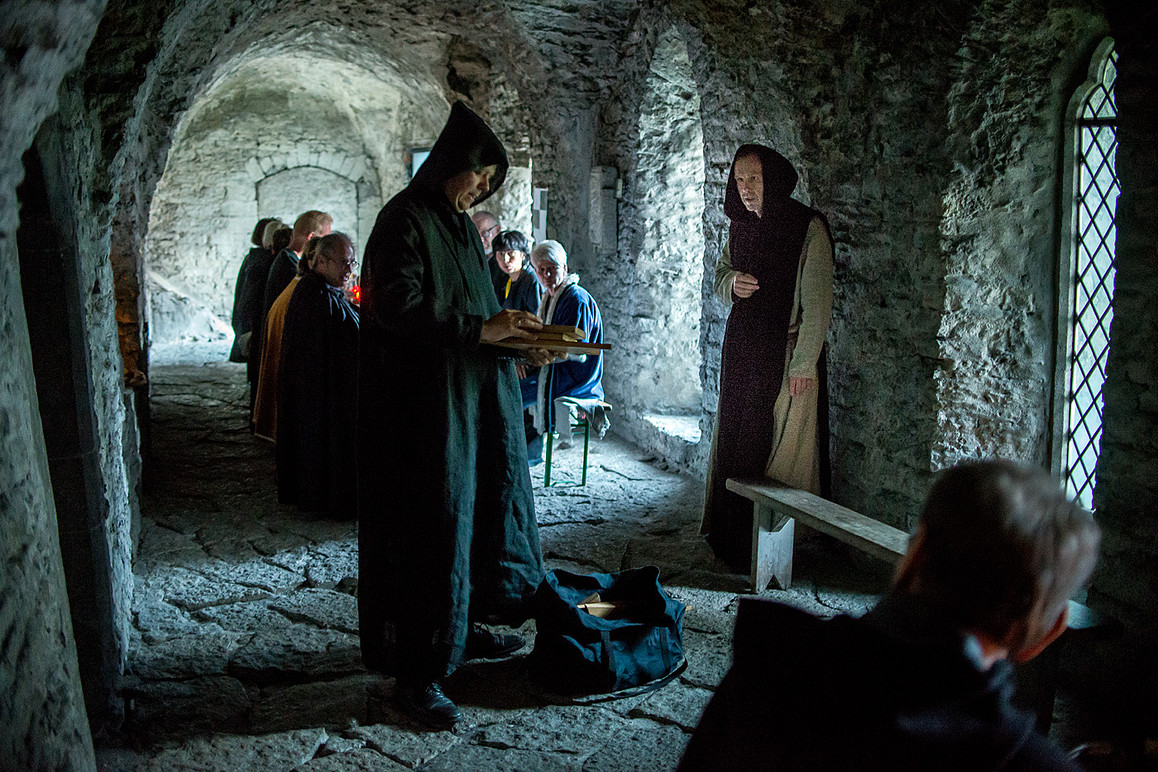 Theme Lunch or Dinner with Monks
Visit the inner chambers of Tallinn's 13th-century monastery for a glimpse into the lives of medieval monks. Visitors shouldn't miss the mysterious 'Energy Pillar' in the cellar, thought to be a source of physical and spiritual health. Enjoy essentially local food, pray with monks and buy some indulgences for sins not yet committed! Expect a few magical surprises and medieval musicians. For small groups from 10 to 30 people. Length: ca 2 hours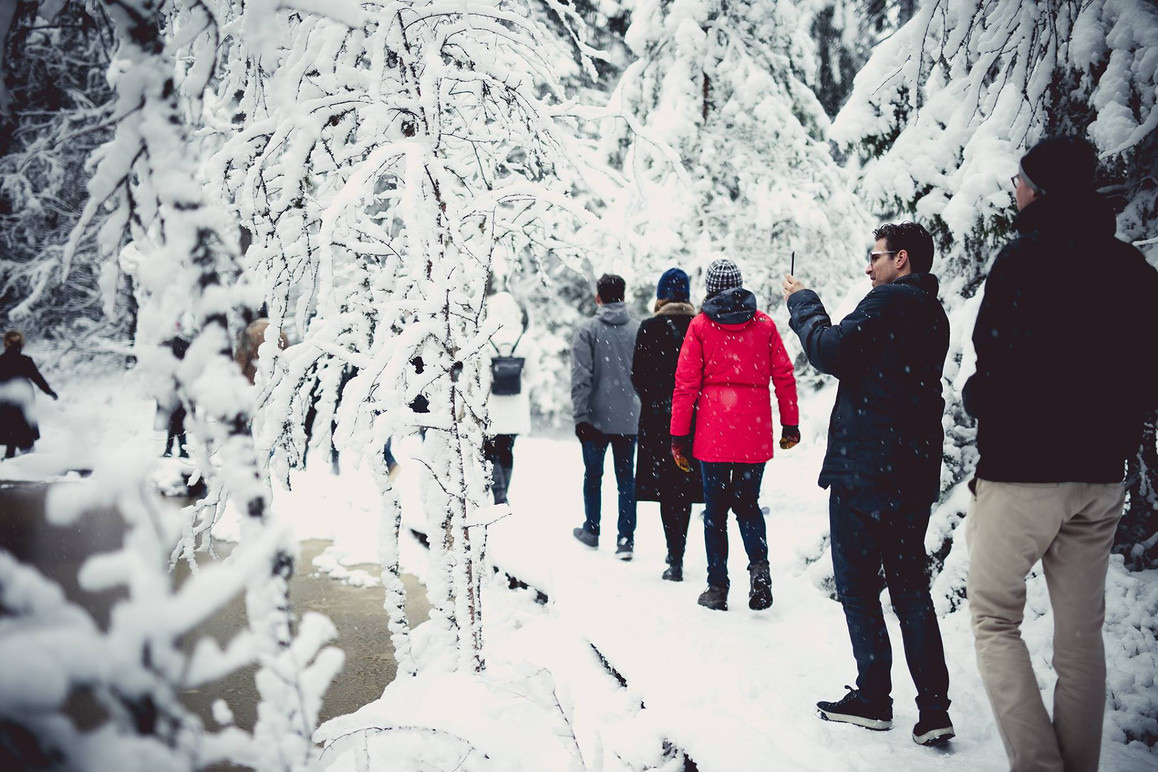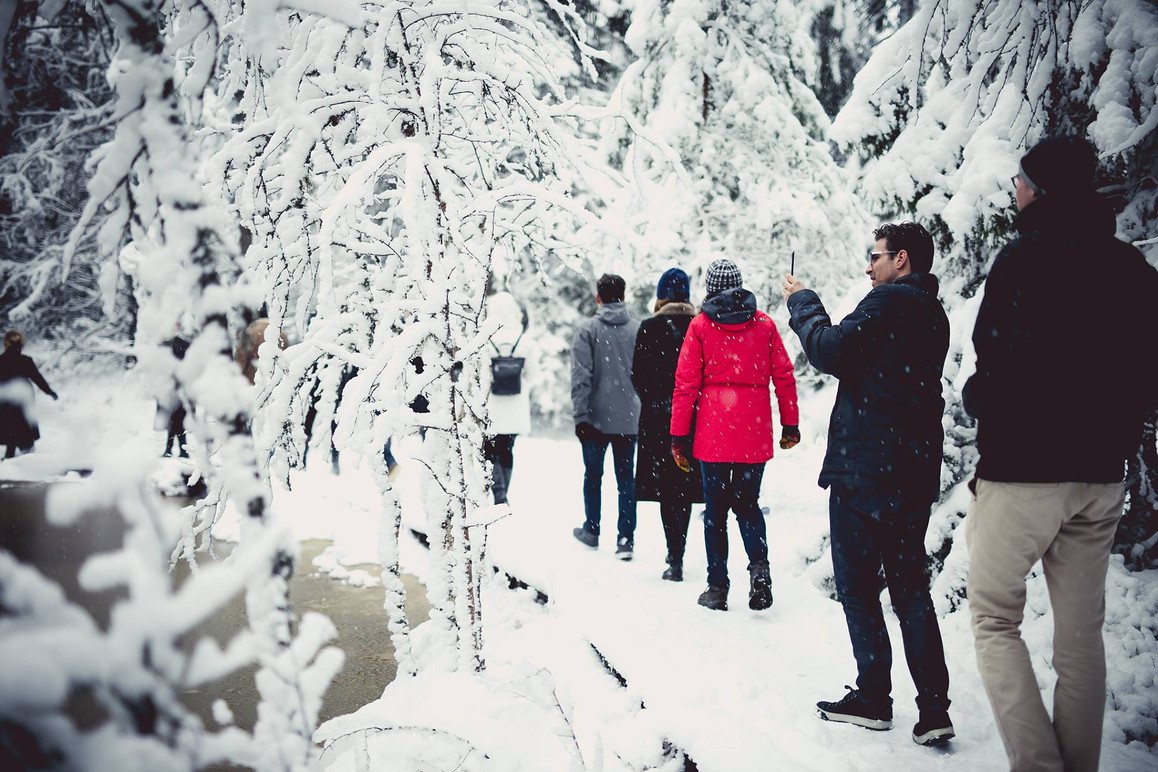 The Magic Fairytale Forest
Guests arrive to the forest where elves welcome them under the spruce and invite to a little walk along the narrow path of magical forest. Hunter has birds and deer, fisherman has brought a fish, elves bring berries and witch has a dessert in smoke. In a tent white hobbit makes music and guests enjoy the natural food in the middle of authentic nature. The forest locates in 30-40 minutes drive from Tallinn. Available during rain and winter as well! Length: ca 3 hours